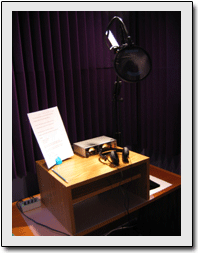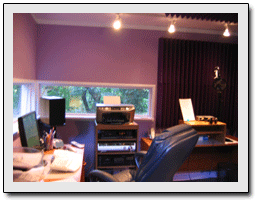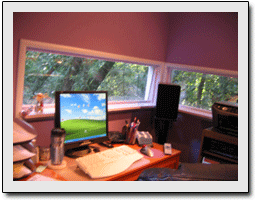 The Studio

With over 20 years experience in radio and voice over, the time finally came to have a studio of my own. Built by my amazing husband and completed in spring 2007, we are equipped with:
Audio Technica AT4050 microphone
M-Audio DMP3 dual mic preamp
M-Audio 1010LT soundcard capable of high quality digital recording in high definition.
Panasonic SA-XR55 Digital Amplifier
HP DX2200(upgraded with enough memory to power the local senior center)
23" Wide screen Acer monitor
Studio Monitors are VIFA Solo Kit by Madisound, built by my audiophile brother Dave
Sony Vegas 6.0 editing software
All protected with an APC Battery Backup/Surge Protector
The studio is a separate outbuilding, measuring a cozy 9'4" x 9'4", and I'm having such a great time, it's difficult to tear myself away! Fortunately, there's no restroom down here...